The biggest life insurance companies in Canada are Manulife, Canada Life, Sun Life, Desjardins, and Industrial Alliance if calculating by total assets.
Even with that knowledge, choosing an insurance company in Canada can be an arduous task. It might not come to mind immediately, but this country is a hotbed for the industry.
The biggest life insurance carriers in Canada compete to offer you coverage, hold large global assets, and provide insurance and financial services to people all over the world. As per the CLHIA, there are more than 150 life and health insurance providers in Canada, which is great for consumers looking for choice.
However, with so many life insurance options in Canada to choose from, how do you narrow down your choices or rank them when attempting to pick the right insurance company for your unique needs.
One option is to look at the biggest life insurance company or companies in Canada.
Manulife is Canada's largest insurance company, collecting almost $40 billion in annual premiums.
Canada Life, Sun Life, Desjardins, and Industrial Alliance (iA) round out the top 5 biggest life insurers in Canada.
SSQ and La Capitale's merger as Beneva will make them the 6th largest life insurance company in the country.
Many bank-affiliated insurers like CIBC Insurance and TD Insurance are among the smallest life insurers in the industry.
What are Canada's biggest life insurance companies?
Below is a list of the top 32 life insurance companies operating in Canada. What do we define as the biggest? There are different metrics on which we can rank an insurance company – based on their length of existence, financial strength, grades granted to them by independent rating agencies, and more. From an insurance perspective, we've ranked Canada's top life insurance providers based on the annual premiums they collect from their policyholders.
If you are instead looking for the best life insurance company in Canada, please head to our term life insurance reviews.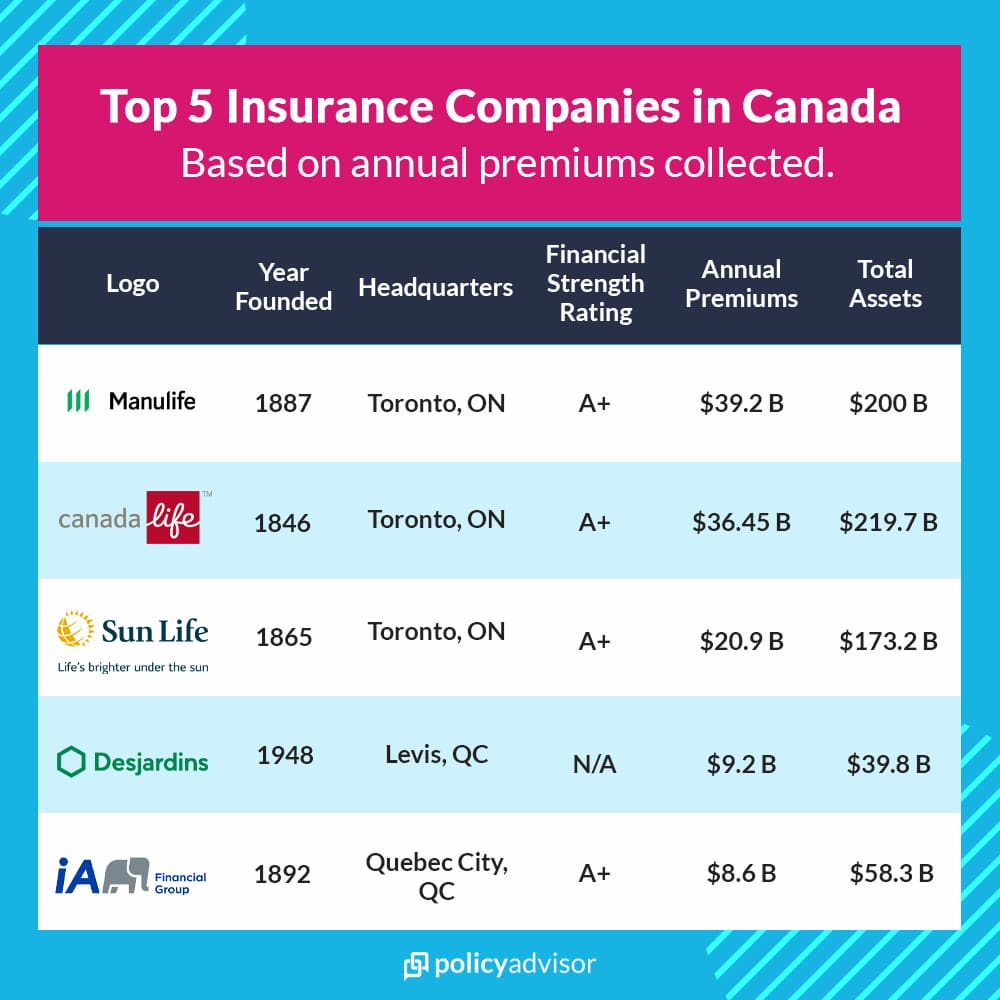 List of the Biggest Life Insurance Companies in Canada in 2023 by Annual Premiums
COMPANY
FOUNDED
HEADQUARTERS
FINANCIAL
STRENGTH
RATING*
ANNUAL PREMIUMS
TOTAL ASSETS
Manulife
1887
Toronto, ON
A+
$39.2 B
$200 B
Canada Life
1846
Toronto, ON
A+
$36.4 B
$219.7 B
Sun Life
1865
Toronto, ON
A+
$20.9 B
$173.2 B
Desjardins
1948
Levis, QC
—
$9.2 B
$39.8 B
Industrial Alliance
1892
Quebec City, QC
A+
$8.6 B
$58.3 B
Beneva
1941
Quebec, QC
A
$6.6 B
$26.8 B
RBC Insurance
1864
Toronto, ON
A
$4.2 B
$15.1 B
BMO Life
1817
Toronto, ON
A
$2.0 B
$11.2 B
Co-operators
1945
Guelph, ON
A
$1.3 B
$6.5 B
Foresters
1874
Toronto, ON
A
$1.3 B
$2.6 B
Equitable Life
1920
Waterloo, ON
—
$1.0 B
$4.2 B
Empire Life
1923
Kingston, ON
A
$1.0 B
$15.5 B
ivari
1927
Toronto, ON
A+
$830.9 M
$11.5 B
Combined of America
1922
Chicago, IL
—
$556.1 M
$0.9 B
Blue Cross
1939
Independent
A-
$413.7 M
$1.3 B
Primerica
1977
Duluth, GA
A+
$311 M
$3.7 B
Assurant
1902
Toronto, ON
A-
$279.7 M
$2 B
Wawanesa
1896
Wawanesa, MB
A
$223.8 M
$1.5 B
Knights of Columbus
1882
New Haven, CT
—
$210.6 M
$3.9 B
Humania
1874
Saint-Hyacinthe, QC
A+
$158.3 M
$0.6 B
Assumption
1903
Moncton, NB
A-
$157.8 M
$1.7 B
UL Mutual
1889
Drummondville, QC
—
$144.8 M
$2.2 B
Western Life
1961
Toronto, ON
A
$143.7 M
$0.3 B
American Income
1951
Waco, TX
—
$134.2 M
$0.4 B
TD Life**
1855
Toronto, ON
—
$112.6 M
$0.2 B
Scotia Life**
1832
Toronto, ON
—
$56.4 M
$0.2 B
CIBC Life**
1961
Toronto, ON
—
$45.1 M
$0.2 B
Canadian Premier
1955
Toronto, ON
A
$27.3M
$0.2 B
FaithLife
1972
Waterloo, ON
—
$22.7 M
$0.4 B
Reliable Life
1887
Hamilton, ON
—
$12.0 M
$0.02 B
Source: Company annual reports, OSFI financial data, A.M. Best Company
** Financial metrics displayed for life insurance businesses of the respective companies. Founding dates of respective parent companies.
Manulife is one of the largest companies in the world, so it's no wonder it tops the list of biggest insurance companies in Canada based on written premiums. With operations in the United States of America through their John Hancock subsidiary, Manulife is one of the biggest insurance providers south of the border as well.
While the top of the list is filled with expected names like the recently amalgamated Canada Life (the new year makes the merging of Great West Life, London Life, and the namesake official), Sun Life, Desjardins, iA Financial Group, and RBC Insurance, there are also names less familiar to the entire country. Though an insurance company like SSQ (now Beneva) or Wawanesa are not household names in Ontario, they are some of the largest Canadian insurance providers, taking in billions of dollars in premiums every year.
The biggest insurance companies in Canada

This list of insurance providers shows much more than who is a top 10 insurance company in Canada. Some of these companies are amongst the largest insurers in the world. Read on for the details.
The Manufacturers Life Insurance Company
Manulife Canada is a subsidiary of Manulife Financial Corporation, a Canada-based multinational insurance company and financial services provider. Manulife has an extensive presence in South East Asia and also in the United States, where they operate through their John Hancock insurance provider. They were incorporated in 1887 as the Manufacturers Life Insurance Company and are the largest insurance company in Canada. They offer an extensive range of personal and group insurance and investment plans. Manulife also operates Manulife Bank, which offers chequing and savings accounts, credit cards, and mortgages. They also offer super visa insurance and insurance for visitors to Canada.